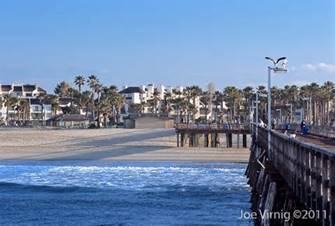 With a population of *22,138 Port Hueneme (pronounced "Wy-nee'mee") is a seaside community in Ventura County, California. Port Hueneme is located 60 miles northwest of Los Angeles and 40 miles south of Santa Barbara. The City's name derives from a Chumash word (Wene'mu) meaning "resting place." Today's Port Hueneme is located halfway between two larger Chumash settlements, today's Malibu and Ventura. The first post office in the community was in Wynema. When Thomas R. Bard laid out the town in 1872, he called it Hueneme. The name was changed to Port Hueneme after the Port of Hueneme was built in 1939. Visitors to the City can find out more about Port Hueneme's rich heritage at the Port Hueneme Historical Museum. Port Hueneme is located on the southwest portion of the Oxnard Plain, on the Pacific Ocean, this region experiences warm (but not hot) and dry summers, with no average monthly temperatures above 71.6 °F. *The median home sale price in Port Hueneme is 347,300.
For more information about the city of Port Hueneme go to:
http://www.ci.port-hueneme.ca.us/index.aspx?nid=532
*Population figures are 2013 estimates provided by the U.S Census Bureau. Median home prices are as of Jan,18 2016.